The building and construction sector has gone through huge changes over the past, from the financial crisis in the United States and Western Europe, to the recent slowdown in BRIC countries, to the ongoing rapid growth in "green" buildings. Manufacturers of building materials such as insulation have suffered from compression of operating margins as well.
In order to develop a sector wide view, Lux Research analyzed the financial performance of 50 large building materials suppliers. However, to gauge the impact of open innovation and tech scouting on growth, we also estimated the extent of external engagement for these companies, taking into account the number of research, development, and distribution partnerships, as well as acquisitions.
External Engagement Has Stronger Correlation with Earnings Growth than R&D Spending
In order to develop an industry-wide view, we plotted average year-over-year (YoY) earnings growth against absolute R&D spending (see Figure 1). While there is a slight increase in earnings growth with R&D spending, with an R value of just 0.11, the correlation is rather poor. However, when we plot YoY earnings growth against the external engagement score, we see a stronger correlation, with an R value of 0.26 (see Figure 2). However, this value is still not a particularly strong correlation – and high-profile examples like Dow Corning do have high external engagement without moving the earnings needle proportionately. External engagement is by no means a silver bullet, as strong business execution as well as correct geographic and strategic focus are required, as we can see by examining the performance of specific companies in more detail.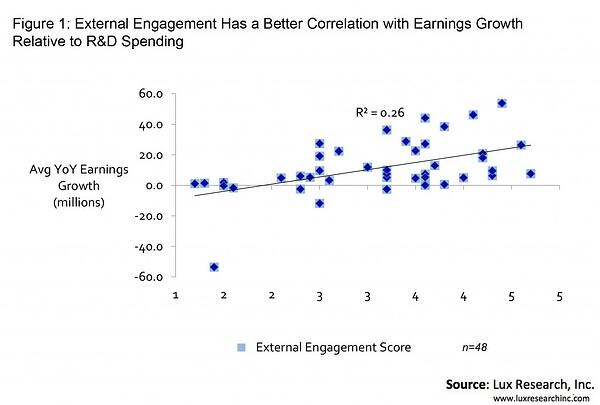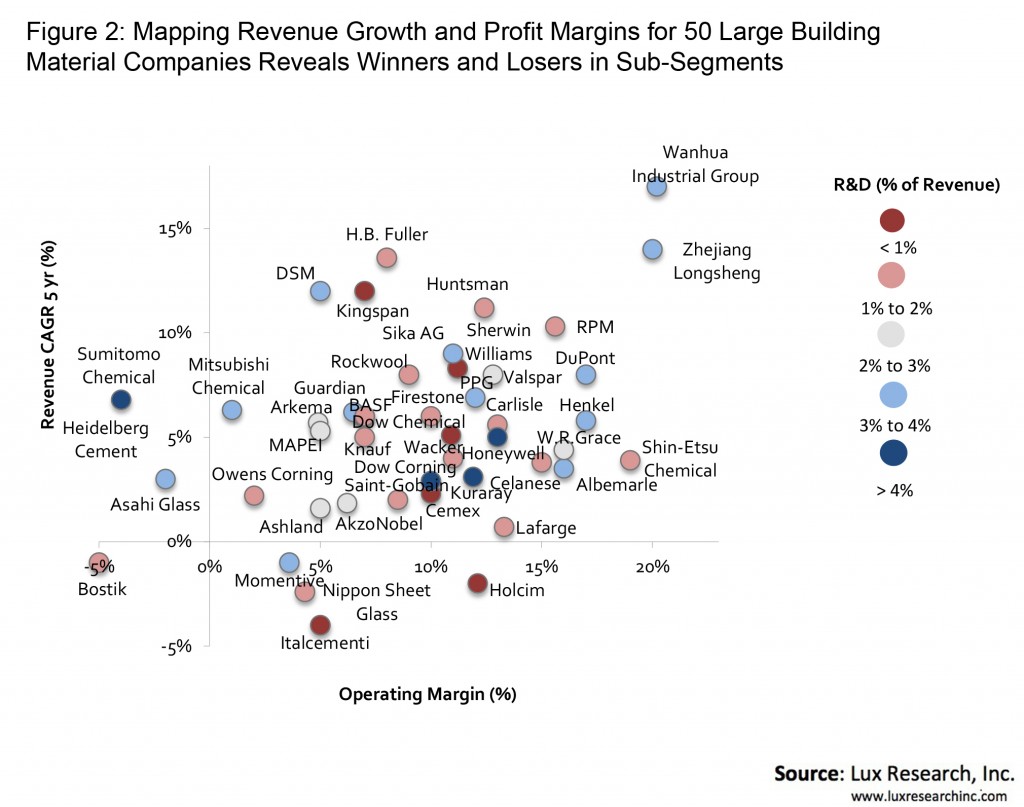 Figure 3 plots five year revenue growth against the 2013 operating margin, with the color of the circles indicating R&D spending as a percentage of revenue. While there is a wide range of financial performance across all R&D spending ranges, we can identify and analyze the performance of some of the companies that are standouts in each sector and find that many are driven by external engagement.
Insulation manufacturers are desperately trying to escape commoditization. Of all the insulation companies analyzed, Kingspan shows the highest earnings growth per R&D dollar spent, outpacing Dow Chemical and Owens Corning. Kingspan owes its success to a high external engagement score of 4.2, driven by complimentary technology acquisitions like Rigidal and Pactiv and its early investment in the differentiated polyisocyanurate foam board technology.
Guardian shines bright in the challenging architectural glass segment. Saint-Gobain, Nippon Sheet Glass (NSG), Asahi Glass (AGC), Dow Corning, PPG, and Guardian are the big six of the architectural flat glass segment, commanding a combined 80% of the market. While NSG and AGC have struggled, Guardian has moved the needle significantly on revenue growth, while maintaining a high profitability, by taking a systems approach to glazings and partnering with a variety of innovators in the glass segment. It's worked with thermochromics film manufacturer Pleotint, low-e coatings developer Intermolecular, and building-information modeling (BIM) software developer ecoScorecard. PPG's revenue growth and operating margins are also high but driven mainly by its performance in coatings, which now represent 70% of its revenue.
Wanhua Industrial Group and Zhejiang Longsheng are riding the coattails of the Chinese construction boom. Presence in the booming Chinese construction market, and specifically in high growth cities in Shenzhen has allowed these two companies to command premium margins while maintaining strong growth. Conversely, however, the receding tide for the Chinese real estate segment has negatively affected earnings in the past year.
Construction chemicals and adhesives are relatively profitable sectors, albeit with aggregation challenges. Compared to high volume insulation, glass, and cement/concrete sectors, the construction chemicals sector remains relatively profitable (in fact, this fact has motivated Saint-Gobain to make an initial offer for a controlling stake in Sika AG at a 2.8x premium over market value). In this sector, companies like H.B. Fuller, Henkel, and Sika have posted attractive financial returns, again in part due to external engagement. For example, Henkel has engaged in joint research with Prof. Markus Buehler at the Massachusetts Institute of Technology (MIT) to create new polymer structures for its adhesives business via atomistic simulations.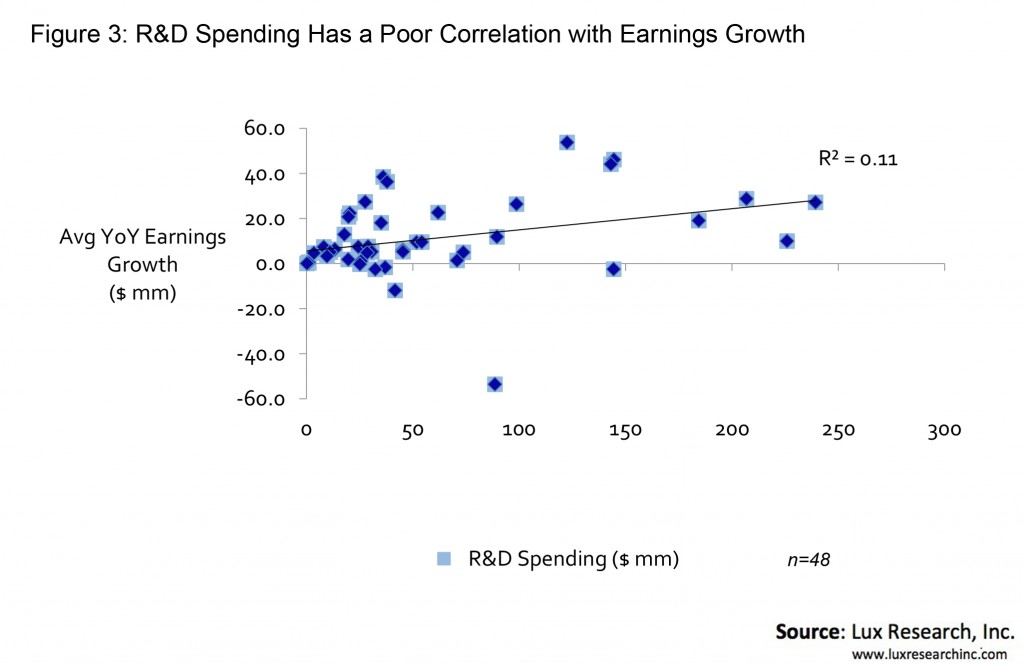 While the building materials industry is a challenging one, even in difficult segments like insulation, architectural glass, and construction chemicals, companies like Kingspan, Guardian Industries, and Sika AG have delivered outsized financial returns. R&D is essential to building a foundation for growth, but companies that get the most return on their R&D spending are the ones engaging externally via acquisitions or partnerships. The correlation of healthy business growth to looking outside the company is now apparent in longer cycle industries like construction materials, as it has been for years in consumer packaged goods.
For more information, contact Aditya at aditya.ranade@luxresearchinc.com.