The Internet of Things (IoT) is a hot term today, and while information technology (IT) companies have been keen on the trend for years, now more and more industrial companies feel they can't afford to miss out on the potential impact. And there is truth in the hype: embedding connectivity and intelligence in physical objects promises to change the way we live our lives, revolutionize many product categories, and bring new efficiencies to many industrial applications. Still, for all the talk of how impactful IoT will be, our conversations with industrial companies – producers of chemicals and materials, oil & gas, utilities, and other physical equipment – reveal a lot of confusion and uncertainty around just how to attack the space. To help better understand the challenge industrials face in capitalizing on IoT, we conducted a survey to explore leading corporations' IoT strategies – or lack thereof. We received responses from 82 individuals from 78 corporations on the state of IoT in their businesses. We found:
While IoT is a high or top three priority for 68% of respondents…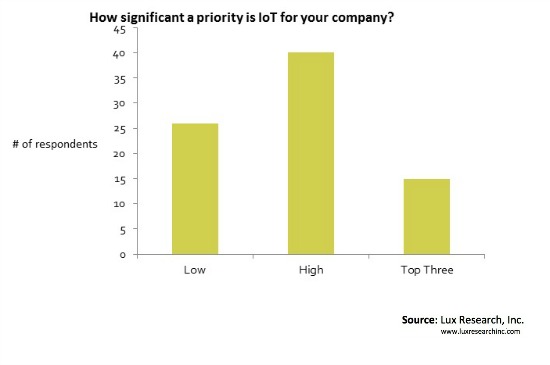 …only 31% of respondents said their company has a clear strategy.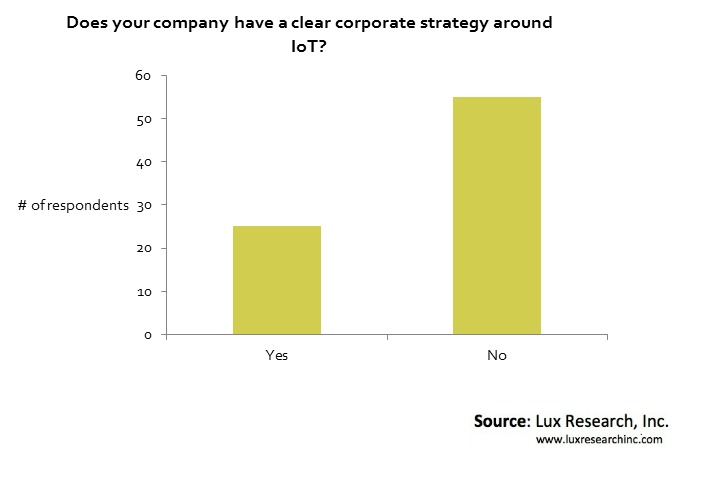 This disconnect reflects the dilemma industrial companies find themselves in: there is a clear realization that IoT is a trend that can't be missed, but many more traditional manufacturing companies have not figured out how to go about playing it. This lack of coherent strategy is also reflected in how corporations organize their IoT efforts.
51% of respondents have little structure behind their IoT efforts.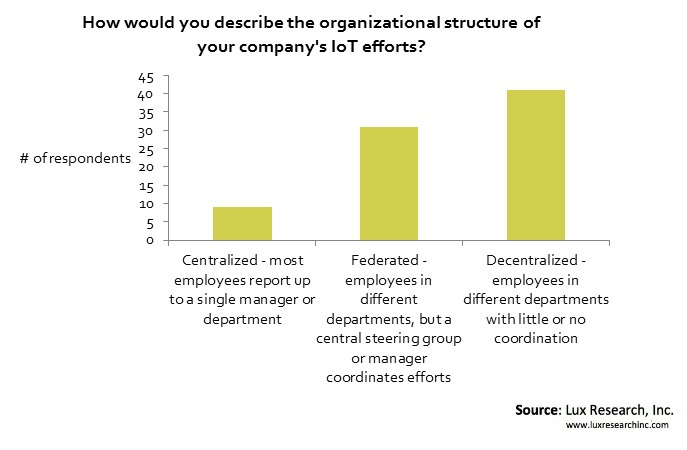 While some corporations have launched corporate IoT groups or even business units focused on IoT, there remains a large faction that is so early in their exploration that there is little organization of IoT efforts – while others compromise with a federated structure.
Actual business value from IoT is still missing for most.
In our survey, 68% of respondents indicated that it's "Too early to tell" whether their company has successfully derived business value from IoT. What's more, most of the others suggested that their firm's approach "needs improvement."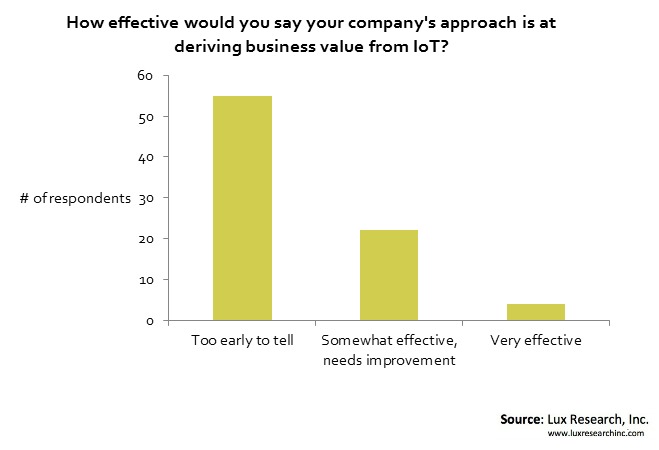 These results reveal a lot about the state of IoT today. A wide spectrum of industrial corporations clearly believe IoT is a critical opportunity, but lack the strategy and organization to derive results and profits from it – for now. Even presumptive leaders in industrial IoT, like GE, are challenged as many technologies, markets, and business models simply aren't mature enough yet – hence GE's modest mantra of "start small, but start somewhere." As companies get their IoT houses in order, they all need to start thinking and planning around specific use cases (client registration required) in order to be sure they're prepared to capture the growing value that IoT can and will bring.
For information about Lux Research visit us at www.luxresearchinc.com